Have you heard about cloud gaming but aren't sure what it is or how to get started with it? You're not alone!
Cloud gaming is becoming increasingly popular nowadays, and there's much confusion about what exactly it is.
In this article, we'll go through the basics and help you understand what cloud gaming has to offer for both casual and professional gamers alike!
What is Cloud Gaming
With cloud gaming, players can access online games remotely without downloading or installing them on their devices.
The idea behind it is to use cloud computing technology to stream games to a user's device over the internet.
This means that anyone with a high speed internet connection can play high-quality games on almost any device – from smartphones to gaming consoles.
So, is cloud gaming the future?
Unbelievably, cloud gaming has been around for more than ten years, with early 2010 innovators including OnLive and Gaikai.
Now, in 2023, cloud gaming will be more popular than ever and is undoubtedly the future of gaming!
How Does Cloud Gaming Work?
Cloud gaming uses advanced video codecs and high-speed networks to ensure low latency and high-quality graphics so you can immerse yourself in your favorite games without lag or visual hiccups.
It allows you to access video games remotely over the internet, so you don't have to worry about downloading or installing anything on your own device.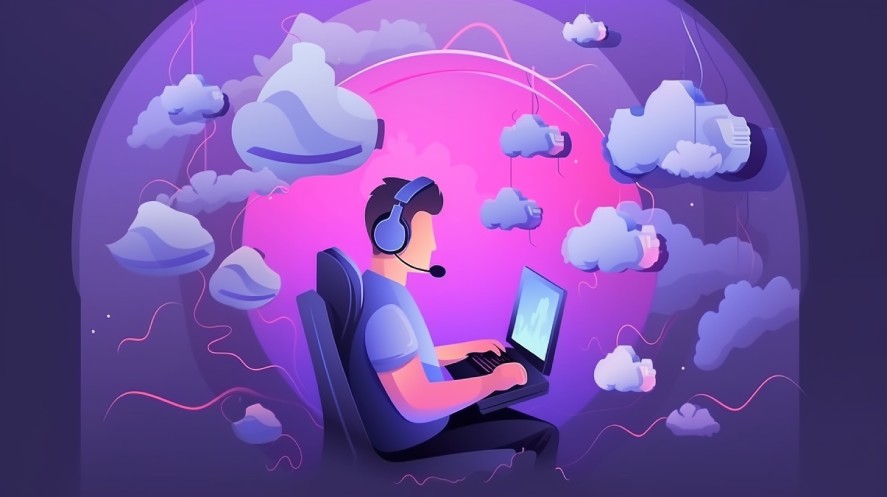 Think of it as a kind of Netflix for video games – with all the convenience and none of the hassle.
Cloud gaming services offer a game library that you can access with a monthly subscription fee or by purchasing individual games.
However, it's important to note that the quality of the service may depend on your active internet connection speed and stability, as well as the performance of the data centers that are used to power the cloud gaming services.
Regardless, it's a fascinating way to experience gaming as a service!
Top 8 Best Cloud Gaming Services
For anyone who is looking for a short answer or a cloud gaming service to try, NVIDIA GeForce NOW, Amazon Luna, and Shadow are among the top contenders in this field.
Note that some options like Vortex and Google Stadia are no longer available.
Before we go, you may want to know "How Many Gamers Are There in the World".
So, let's explore the top 8 cloud gaming platforms available to gamers today!
GeForce NOW allows you to play demanding games on even the most modest systems with low Internet latency, high frame rates, and compatibility with a wide range of devices.
With over 1400 games available and the ability to stream games from your library, the endless possibilities are endless.
Plus, with the ability to seamlessly switch between devices, you can take your gaming on the go. Say goodbye to hardware limitations and hello to endless gaming possibilities with Nvidia GeForce NOW.
GeForce NOW Alternative
Are you tired of waiting in long queues to play games on GeForce NOW? Fear not, my fellow gamers, because there are some amazing GeForce NOW alternatives that you can try out.
Xbox Cloud Gaming
Shadow
Amazon Luna
Parsec
PlayStation Plus
You can find more information about these alternatives below.
Xbox Cloud Gaming is a revolutionary platform that lets you play your favorite Xbox games without needing a gaming console!
With XCG, you can access a library of over 100+ games on your mobile phone, tablet, or PC. Thanks to its innovative streaming technology, you can play games on the go or from your home without having to download anything.
Plus, you can use your existing Xbox account to pick up where you left off—no need to worry about losing your progress!
Shadow Cloud Gaming is a game-changing technology that allows you to stream high-end games straight to your laptop, tablet, or TV without sacrificing performance.
With Shadow, all the processing power is done on remote servers so that you can play your favorite games on any device, anywhere, anytime.
Shadow PC Alternative
Plenty of other Shadow PC alternatives are out there, including services like PlayStation Now and GeForce Now.
Parsec
Each has its strengths and weaknesses, so it's important to research and find the best fit for you. Who knows, you might discover your new favorite way to play!
Amazon Luna offers a high-quality gaming experience with the ability to stream up to 1080p resolution at 60 frames per second.
Luna also comes equipped with a wide variety of games, from adventurous new titles to classic favorites. Plus, you can play them on multiple devices, including Fire TV, PC, and even your phone.
PlayStation Plus is the ultimate subscription service for PlayStation 4 and 5 users, offering many benefits beyond the typical online multiplayer access.
With PlayStation Plus, you get monthly free games, exclusive discounts, and even access to online storage for game saves.
As for PlayStation Now, it's your ticket to a vast gaming store spanning across the PlayStation 2, 3, and 4 generations.
Blacknut Cloud Gaming can help you access a library of over 500+ games right from your internet browser.
The possibilities are endless with the ability to play on any device, from your TV to your smartphone. Plus, Blacknut guarantees no lag and HD graphics. So why limit yourself to just one system when you can have it all with Blacknut?
Parsec is a cloud gaming platform that allows you to stream games from your computer anywhere in the world. The platform's low-latency technology ensures your games run smoothly without lag or interruptions.
But that's not all – Parsec also offers a plethora of features, including support for multiplayer gaming, hosting virtual game parties with friends, and the ability to connect with your favorite gaming communities.
Nware is an innovative platform that allows you to stream top-tier games directly to your device without needing additional hardware upgrades.
Not only is it cost-effective, but Nware also boasts a plethora of features to enhance your gaming experience. From seamless cross-platform play to real-time multiplayer with friends, Nware has got you covered.
Additionally, their high-speed virtual servers ensure a smooth and lag-free gaming experience, so you'll never miss a beat during intense gameplay.
Conclusion
Cloud gaming is undoubtedly here to stay, and as technology develops, its influence will only increase. As we explore this innovative platform further, its potential for casual and hardcore players has only heightened.
This technology is sure to challenge traditional gaming methods in interesting ways yet unseen, making it a major player in the industry for years to come!
---
Frequently Asked Questions
What do I need for cloud gaming?
If you're considering trying out those services, there are a few technical requirements to keep in mind.
First, you'll need a stable, high speed internet connection with low Internet latency since cloud gaming requires robust network infrastructure. Without a reliable connection, you'll find yourself facing frustrating lag and even game crashes.
Second, you'll need a device that's compatible with cloud gaming services. This could be a PC (no need to be a high end gaming PC), laptop, smartphone, or tablet.
Lastly, you'll want a controller or keyboard and mouse setup that you're comfortable with. Some cloud gaming services are compatible with specific ones, so be sure to research beforehand.
Does cloud gaming save your progress?
With cloud gaming, all of your progress is saved in the cloud servers. This means you can access your game from any device with internet access – no more lost progress due to power outages or technical difficulties.
Plus, you won't have to worry about constantly transferring saved files between devices.
How much data does cloud gaming use?
The average amount of data cloud gaming uses per hour ranges from 2 to 5 GB, representing a sizable portion of your monthly data allowance.
The amount of data usage varies depending on the game, the game settings, and even the streaming quality.
But by tweaking a few settings, such as lowering the game resolution or limiting the streaming quality to save on data, you can continue enjoying the gaming experience without breaking the bank on data usage.